Fibre-reinforced plastic rebar - a new activity of the «Plast Invest Production» LLP. It is an alternative to traditional building metal rebars. Our company is engaged in production of fibre-reinforced plastic rebar, FRP rebar.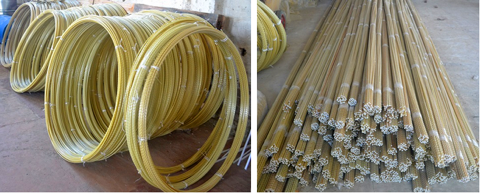 It is a high-strength monolithic rod formed of continuous glass fibers (rovings) with a diameter of 10 - 15 microns and the thermosetting synthetic resin binding these fibers.
Composite rebar of glass fiber FRP produced in section from 4 to 18 mm. On the request, the non-metallic rebar can be made with a larger diameter. Depending on the plan of the construction activity and the convenience of the delivery to the object, fiberglass reinforcement FRP can be bought as segments of any length (standard length 6 or 12 m), and as coils (up to 10 mm Ø. inclusive) with 100 m (standard) or other meters on the application.
Production of composite fiberglass reinforcement is carried out using high technology and meets all the quality standards. Glass-fiber reinforcement is made in the form of fiberglass rods with outer diameter of 4 to 20 mm with a uniformly distributed spiral relief with any construction length. Among a variety of composite building materials used in the construction of buildings and structures, as well as carrying out various repairs, it is necessary to allocate fiberglass reinforcement, characterized by an impressive number of positive properties.
The popularity of composite reinforcement of fiberglass is due to a number of the following reasons:
High resistance to corrosion processes;
Long lifetime;
Excellent freeze-thaw tolerance, including an exceptional frost-resistance.
Plastic reinforcement does not conduct electricity and is not magnetized
The lightness of composite reinforcement of fiberglass should be also noted, which guarantees the creation of light and strong building structures, providing significant benefits in the construction due to cost savings allocated for transportation, loading and unloading, warehousing and storage.
Advantages
Low thermal conductivity.
High corrosion and chemical resistance.
Low density, 3.5 times lighter and 2.5 times stronger than metal with an equal diameter.
Convenience of installation.
Economic feasibility
3 times stronger
Tensile strength is 3 times higher from strength properties of steel reinforcement class AIII.
9 times lighter
Composite rebar 9 times lighter than metal at full-strength replacement that provides a significant reduction in labor costs during the reinforced concrete works.
Corrosion resistance
· The reinforcements are not exposed to the corrosive effects in most aggressive medium.
Dielectric
Reinforcement is diamagnetic and has dielectric properties, which allows using it in such buildings and structures such as hospitals, airports, radar stations.
More economical
Economical effect is achieved due to the use of composite reinforcement of smaller diameters compared with metal fittings, and also due to savings in logistics.
Where can we use composite reinforcement?
In the construction and repair of unstressed or prestressed structures of industrial, civil, road construction and others
In the construction and repair of concrete structures of various types of concrete (including light, heavy, fine-grained, cellular, porous)
In the construction and repair of structures based on gypsum binding material
In the manufacture and repair of constructions of roads, slopes, retaining walls
In the manufacture of flexible couplings; anchors for fixing insulation; rods and grids to strengthen different constructions
What are the advantages of non-metallic reinforcement as compared to steel one?
Fiberglass reinforcement is 2.5 times stronger than steel (for composite threshold strength of 1100 MPa, and for steel, which fittings is made from - 390 MPa)
The density of composite reinforcement is 4 times less than the density of steel. This means that with an equal strength of the non-metallic reinforcing frame weighs up to 10 times less than that of the conventional carcass reinforcement products.
Composite fiberglass reinforcement never rust. This rebar can be used in all weather conditions (from -70 to +100 ° C) and at the same time it retains its properties.
In addition, non-metallic rebar is resistant to chemicals. Therefore, it can be used even in the sea water; the service life will be the same.
Composite materials, which is used to make non-metallic reinforcements have about the same thermal expansion coefficient as well as concrete. This avoids the occurrence of cracks during temperature changes. In general, the use of composite reinforcement increases the service life of concrete structures by 3-4 times.
Non-metallic reinforcement has 100 times less thermal conductivity than steel counterparts. Therefore, buildings constructed with composite reinforcement, retain heat much better.
Composite rebar is also indispensable in the construction of airports, hospitals and other specialized facilities, because it is not subject to the magnetization and does not conduct electricity.
Fiberglass reinforcement is supplied in coils or bars (depending on the diameter). Thus it can have rods of different lengths, depending on the needs of the customer. In combination with a low weight of composite materials, these factors make transportation not only easy but also reduce the price of transportation to the building site.
Taking into account the reduction of transport costs, on average, the use of glass-fiber reinforcement reduces the cost of construction twice. At the moment, it was possible to reduce the cost of production of composite reinforcement, making it available for use in civil, industrial and special building by construction firms and individuals.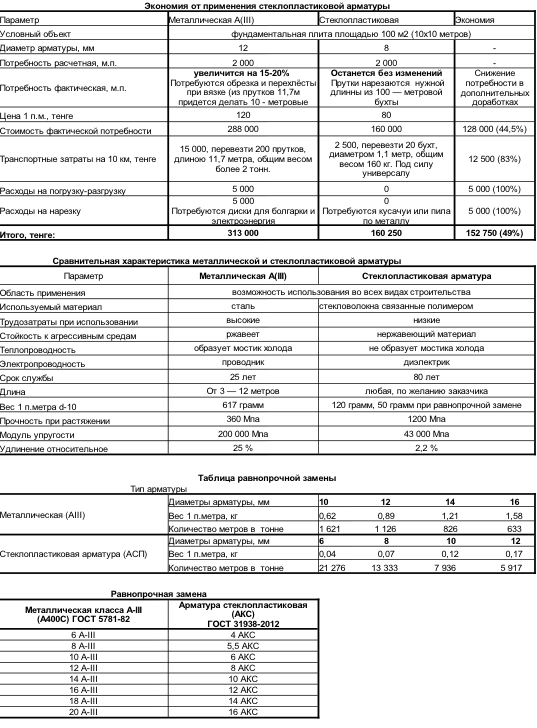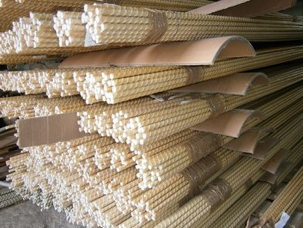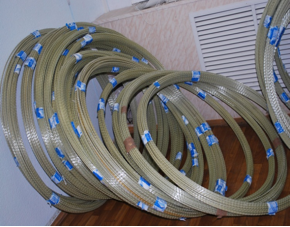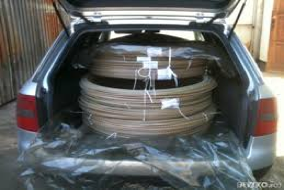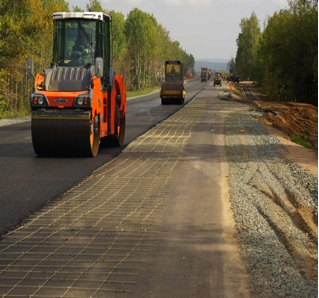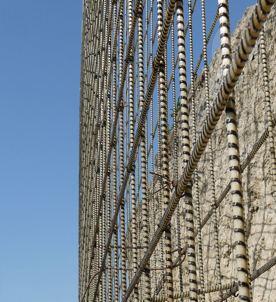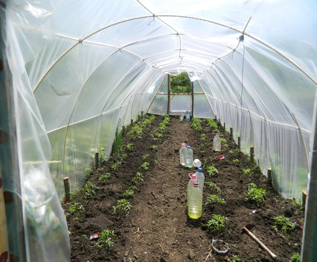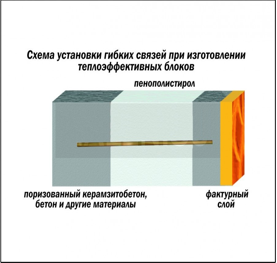 1975 г. Амурская область. Мост возведен с применением стеклопластиковой арматуры, мост сохранился и состояние стеклопластиковой аматуры по оценке НИИЖБ находится в хорошем состоянии.